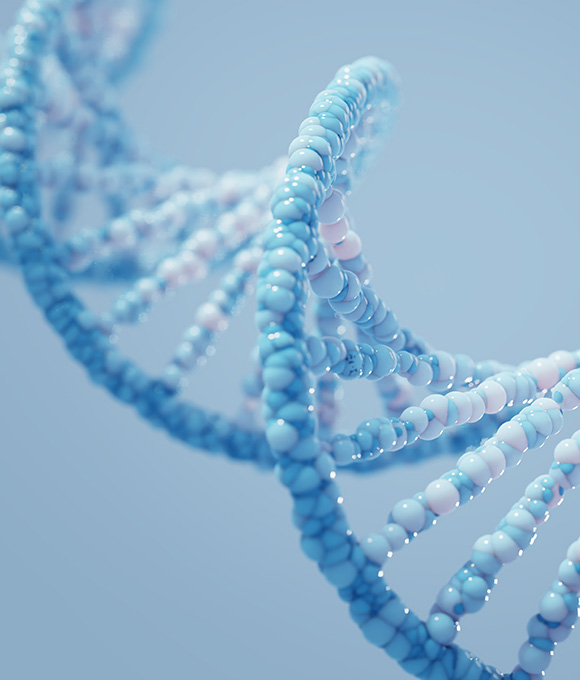 Research Thrusts
---
Drug Delivery
such as the development of lipid nanoparticles that can safely encapsulate mRNA and other high-value active agents, such as proteins, DNA, CRISPR enzymes and guides, and antibiotics and get them to the most appropriate site of action. Such nanoparticles have already been critical to the success of COVID-19 vaccines, but other packaging materials and surface customizations can be developed to target specific organs or promote complementary biological responses as delivery vehicles release their payloads.
Responsive Biodevices
or assemblies of biological material that are sensitive to external stimuli, such as light, heat or mechanical stress. Such devices could include gel-like scaffoldings that can stiffen or relax depending on a pre-programmed cue, prompting the response of cells or tissues, or implantable, light-activated materials that heal damaged tissue by releasing small molecules.
Biomimicry
including entirely synthetic materials that are based on the design of biological cells and tissue. These materials would communicate with the body using the same principles that natural cells use to signal to one another. Such materials could interface with the immune system's memory cells, improving the efficacy of vaccines or preventing autoimmune disorders, or lead to the assembly of organoids, or organ-like materials that can be used to produce or test biological molecules in vitro.
MEMS
Microelectromechanical systems (MEMS) for integrated, multicellular response. Advanced microstructured materials that are hybrids of biological and non-biological materials, MEMS can be used to connect cells in circuit-like arrangements. Examples might include implantable, self-powering electrodes which can monitor or extend neural activity for memory or therapeutic intervention.
CPE4H Seed Grants
CPE4H seed projects address healthcare challenges in several key areas of strategic importance to Penn. Judged on technical innovation, potential to attract future resources and ability to address a significant medical problem, the following projects were selected to receive funding in 2022.
CPE4H is connecting and leveraging the extensive community of research centers within Penn Engineering and Penn's Perelman School of Medicine, such as Penn Health-Tech, the Institute for Translational Medicine and Therapeutics, the Institute for Regenerative Medicine, the Institute for Immunology, and the newly formed Penn Anti-Cancer Engineering Center, with collaborations through interdisciplinary seminars and workshops, as well as through seed funding for high-risk, high-reward research that leads to commercialization.
Evolving and Engineering Thermal Control of Mammalian Cells
Led by Lukasz Bugaj, Assistant Professor in Bioengineering (BE), this project will engineer molecular switches that can be toggled on and off inside mammalian cells at near-physiological temperatures. Successful development of these switches will provide new ways to communicate with cells, an advance that could be used to make safer and more effective cellular therapies.
Combining microfluidics and quantum photonics, Liang Feng, Professor in Materials Science and Engineering (MSE) and in Electrical and Systems Engineering (ESE), Ritesh Agarwal, Professor in MSE, and Shu Yang, Joseph Bordogna Professor in MSE and in Chemical and Biomolecular Engineering (CBE), are teaming up with Ping Wang, Professor of Pathology and Laboratory Medicine in Penn Medicine, to design, build and test an ultrasensitive point-of-care detector for respiratory pathogens.
Versatile Coacervating Peptides as Carriers and Synthetic Organelles for Cell Engineering
Amish Patel, Associate Professor in CBE, and Matthew C. Good, Associate Professor of Cell and Developmental Biology in Penn Medicine, will design and create small proteins that self-assemble into droplet-like structures known as coacervates, which can then pass through cell membranes in order to deliver cargo that modulates cell behavior or be maintained as synthetic membraneless organelles.
Towards and Artificial Muscle Replacement for Facial Reanimation
Cynthia Sung, Gabel Family Term Assistant Professor in Mechanical Engineering and Applied Mechanics (MEAM) and in Computer and Information Science (CIS), will lead a research team that includes Flavia Vitale, Assistant Professor in Neurology and BE, and Niv Milbar, Assistant Instructor in Surgery in Penn Medicine. The team will develop and validate an electrically driven actuator to restore basic muscle responses in patients with partial facial paralysis.